The river along the eastern border of Palestine.
The Jordan River flows southward from Mount Hermon in northern Palestine. It connects the Sea of Galilee with the Dead Sea, forming the eastern border of Palestine.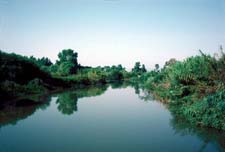 Jordan River
Cities near the Dead Sea in antiquity included Sodom and Gomorrah, which were said to have been destroyed by God (Gen 19:25). David hid as an outlaw at the spring of En-gedi along the Dead Sea's western side (1 Sam 24:1).Zechariah prophesied that on the Day of the Lord living waters would flow out from Jeruslaem to the Dead Sea (Zech 14:8) and Ezekiel said that in that day the Dead Sea would yield fish (Ezek 47:7-12).

In New Testament times, John the Baptist called people to repent and baptized them in the Jordan. Jesus was among those baptized in the Jordan by John.