A freshwater lake or "sea" in northern Palestine.
The Sea of Galilee is a large lake that is about 13 miles long and 8 miles wide. It lies 690 feet below sea level. The Jordan River flows into it from the north and empties out of the lake's southern end.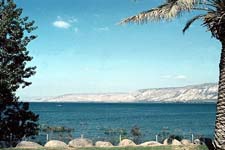 Sea of Galilee from the
south shore

In New Testament times Jesus resided for a time in Capernaum along the Sea of Galilee. Among his earliest disciples were Peter, Andrew, James, and John, fishermen whom Jesus called from their work along the sea (Mark 1:16-20). Jesus taught along the Sea of Galilee (Mark 4:1) and periodically crossed it during his ministry. The gospels recount how he calmed a storm on the Sea of Galilee and walked upon its waters (Mark 4:35-41; 6:47-52). After the resurrection, Jesus appeared to some of his disciples beside the sea (John 21:1-14).