One of the first disciples of Jesus and brother of James.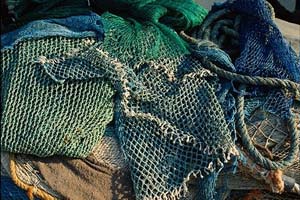 Jesus called James & John while
they mended their nets.
John, a Galilean fisherman, was the son of Zebedee and brother of James. Along with Peter and James, John was in the 'inner circle' of the twelve. He is mentioned in company with Jesus at Simon Peter's home in Capernaum, at the house of Jairus the ruler of the synagogue, on the Mount of Transfiguration, on the road to Jerusalem, and at Gethsemane. In Acts, John appears with Peter at the Temple when the latter healed the lame man in the name of Jesus Christ. They were both arrested by the Temple authorities and put on trial before the priestly council, but released with a warning. After the martyrdom of Stephen we find John again in company with Peter in Samaria to approve the spread of the Gospel there. Thereafter John disappears from the New Testament except where Paul mentions him as a 'pillar' of the Church in Jerusalem. John is traditionally identified with the disciple whom Jesus loved, who was next to Jesus at the last supper, and with him at the cross.
Mark 1:19-20 - John's call
Mark 9:2-8 - At the Transfiguration
Mark 14:32-42 - In Gethsemane