The mountain where Moses received the Law.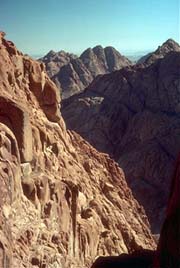 God gave Moses the Law
on Mount Sinai
Mountain traditionally called Sinai
Mount Sinai is located in the Sinai Peninsula, which lies between Egypt and Palestine. The mountain was also called "Horeb."
Moses was tending sheep in near Mount Sinai when God spoke to him from a burning bush. God commanded Moses to return to Egypt and demand that the king of Egypt release the Hebrew people from slavery. After their Exodus from Egypt, the Israelites encamped at Mount Sinai. There God gave them the Ten Commandments and other laws (Exodus 20), and he established his covenant with them (Exodus 24). While Moses was on the mountain, however, the people committed idolatry by building a golden calf to worship. God became angry, but Moses interceded on Israel's behalf and God renewed the covenant (Exodus 33-34). The people then followed God's instructions to build a tent-like structure called the Tabernacle in which to worship rightly.
The prophet Elijah fled to Mount Sinai after slaying the prophets of Baal. Discouraged at Israel's faithlessness, Elijah was ready to die. God spoke to Elijah in a sound of sheer silence, commanding him to anoint leaders to overthrow the idolatrous rulers of Israel, and assuring him that God had preserved seven thousand faithful among the people (1 Kings 19:8-18)
Exod 3:1-12 - Moses and the burning bush
Exod 24:3-8 - Covenant at Mount Sinai
1 Kings 19:8-18 - Elijah at Mount Sinai